Valentine's Day is just around the corner but – as much as I love you, dudes – this year I'm going to focus on Galentine's Day and celebrating the awesome girl friends in our lives instead.
It doesn't mean I have anything against Valentine's Day! I personally think it's an amazing Holiday and I love it to death because I am and I'll always be the biggest advocate for love. But I want to focus on Galentine's because Valentine's can be a difficult day especially for women. AND… since we know better than anybody how we would like to be spoiled on this day, why not do it?
Single, taken, married, girl boss, stay at home mom, jet setter, intuitive goddess, world traveler or anything in between – there's one thing I know you'll love to do on this day. And that is P A R T Y.
Nothing better than letting your hair down and enjoying some dancing-like-nobody-is-watching, especially when you have your best girl friends by your side and zero judgements.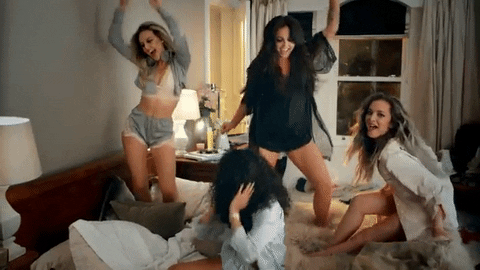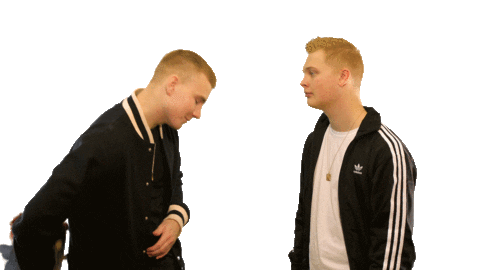 But first... presents!
Who says that you need a Valentine in order to receive gifts? And even if you do, who says you can't be treated… twice? Also those girls heard all your problems and have been there for you when no one else was, so they deserve a little something.
For the #fashionista in your life
If you have a female friend who loves fashion and style, there's no better way to show her some love by having a little shopping spree together and picking up a few things you know she's been eyeing.
It can be the smallest thing like a cute key chain, a little wallet, a beautiful scarf, a funky beret (or hat), a pair of sunglasses, a funny pin or brooch. If you know her size and what she loves, even better! Surprise her with the blouse she's been sending you snaps of or that bag she's been checking out every time you guys are out to the mall.
Of course if you come short on time you can always offer a gift card to her favorite store because there's nothing more exciting than having a little extra budget for clothes 😍
For the health obsessed
If your best friend loves fitness or is trying to get in shape and kick off a healthy lifestyle, I have the perfect gifts for her!
The first one is a super fun program from Hip Shake Fitness called Tone'n'Twerk. It's available as a DVD but also as an online subscription. I discovered Hip Shake Fitness on Instagram and I got hooked on the endless positive energy and cool exercises they come up with every single day. These ladies have PASSION and fire and for sure they'll inspire you to have it, too. So make sure you give them a follow if you need some motivation.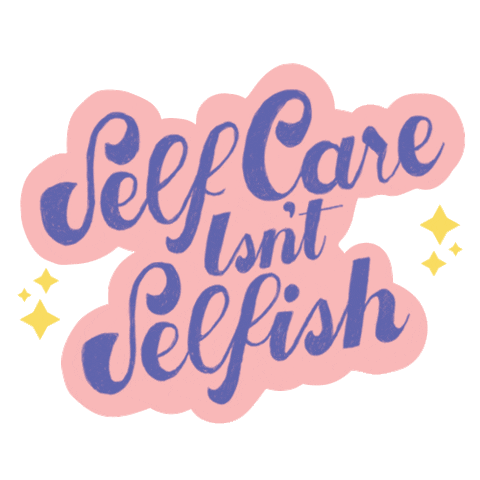 Also, since we are on the topic of health… I want to take a moment to note this very cool service I discovered called HERS.
Hers offers convenient, more affordable access to prescription products and medical advice, while cutting long waiting lines at the doctor's office or being denied care because of bad healthcare plans.
So if you know any of your friends struggling with skin, hair or intimate concerns, give this website a try – you might just save them tons of time and headaches.
For the creative babe
It's no secret I've been dreaming of having a Polaroid camera since I was a kid and I think any babe passionate about photography, creativity or culture would really love an instant camera, especially when it looks as cute as these do!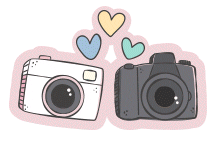 Simply hilarious gifts
If you know a girl who appreciates humor, I found just the right presents for her! And please excuse me while I go stock up on eggplant bath bombs 😆
Now that we have the perfect gifts, it's time to plan the actual party!
What made me really excited was finding these super cute pink heart shaped balloons from Party City. That store always puts me in a great mood because there's always something fun and funny to find.
Party supplies checklist
Funny or cute balloons
Other decorations like banners, lanterns etc.
Cute lights or candles
Disposable plates, utensils and glasses (please recycle)
Galentine's approved snacks (mochi's anyone?)
Rosé (it's a must lol) and any other drinks
Music or movies to watch
Of course check for essentials that you might be missing like a bottle opener, napkins, salt and pepper, bar garnishes (lemon, lime, olives) and garbage bags (you never know when you might need them). Also don't forget to check if any of your guests might have special dietary needs.
My childhood aspirations to become a dj might have failed, but at least I can annoy you all with my playlists. And since this is a party…
Ariana Grande – God is a woman
Beyonce – All the single ladies
Calvin Harris / Katy Perry – Feels
Rihanna – Rude Boy
Missy Elliott – Work It
Ariana Grande – Thank you, Next
Ke$ha – Blow
Black Eyed Peas – I've Got a Feeling
Major Lazer – Cold Water
Taio Cruz – Break Your Heart
Clean Bandit – Rather Be (Magician remix)
Cardi B – Money
Icona Pop & Charli CXC – I Love It
Calvin Harris – How Deep is Your Love
Macklemore – Thrift Shop
The Chainsmokers – Don't Let Me Down
Jack U & Justin Bieber – Where are U Now
Katy Perry – Firework
Rihanna – Diamonds
Sofi Tukker – Best Friend
Dua Lipa – New Rules
Azealia Banks – Soda
David Guetta, Brooks & Loote – Better When You're Gone
If you're less of a party freak and more the sleepover party kind of gal, I found the perfect movies to binge watch with your squad while enjoying comfy pj's and unlimited popcorn.
Thank you so much for reading! Hopefully I made your party planning a little easier. Let me know in the comments below if you guys are doing a Galentine's Day and what would you like to receive as a gift. As always, much love ❤️