Every once in a while I take a step back from things to analyze if my heart is still in them. If something remains on my mind and I keep being drawn to it, then it's definitely a thing I keep doing or pursuing. If not, I love to clean my slate to make room for new and exciting adventures. Nothing more satisfying than a rejuvenating – metaphorical – cleansing fire.
Five Suns – Introspective
Taking a break from my blog was something I needed to do in order to realign with the rest of my purpose, which is: creating.
I was putting a lot of effort into writing, because I love to write, and also into photography, because it's also something I'm enthusiastic about. And it's not like I was expecting the world to fall on its back, because I never wrote expecting to gain anything in return; but I was starting to get a lot of messages that left me feeling like I owed something to an increasingly demanding world – when in reality all I ever wanted was to express myself and perhaps inspire some people along the way to keep striving towards their dreams.
I was feeling more and more like I was pigeon-hole-ing myself and that's one of the things I despise the most in life: being in a box. So I stopped.
Every time I try to be too much on one side, something backfires tremendously in my life. If I try to focus only on painting, I start to feel trapped. If I focus too much only on design or music – then I start to feel trapped. I really need to have multiple things going on to jump back and forth from. For me that creates balance.
One day I'd be doing yoga and meditating, and the next the house might be rumbling with roaring techno. But it's funny though because I always keep cycling through my three favorite creative mediums: music, visual arts, and designing. No matter for how long I'd put them aside, and no matter how much I try to get away from them – they always keep coming back – like waves.
That's how I know that I'm always going to find my way back "home" to what I love, because my passions never really leave my core.
Another reason I took a step back was because I was feeling misunderstood.
Many times I was finding second guessing myself or wondering if I should even post at all because I didn't wish to be perceived as either shallow or boastful. And I know that people's perception is something I have no control over. But my intentions in life are to always follow my excitement, my integrity and my profound love for things.
It seems like we're living more and more in an era where there's an undeclared war on feeling. Where to care or to be passionate is equated to either weakness or obsession. So you can understand how for an ISFP (not that I believe too strongly in these definitions, but… I digress) like me this "trend" can sit rather unwell.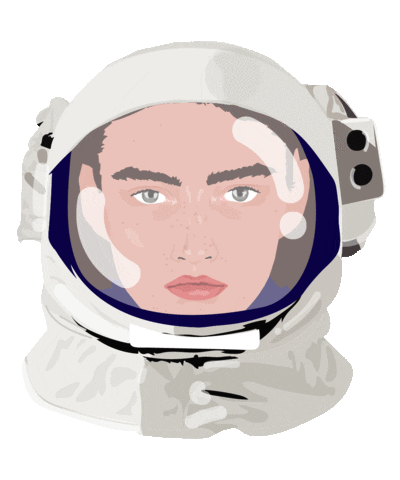 Setting goals and dreaming new dreams is something I absolutely love doing. But abiding by an extremely strict and rigid schedule is not my forte. I despised having to do it in school, I despised having to do when I worked in-house, and I despise it now when I have to create or to post every "X" days.
Creativity can happen at random so it's very silly to squeeze yourself to only create between certain hours or certain days.
Besides art, I've been also working on developing a fashion/lifestyle line based on my creations. I've always loved playing with clothes so this is actually a very old dream of mine.
I wanted to make clothing and products that can satisfy a complex person: unique and bold enough to set them apart, but not lacking in practicality, utility and versatility. Hence why I focused first on tshirts, skateboards and denim. I'd really love to start hand painting sneakers, but those can be a bit more expensive to invest in – at least for now. I'll be updating everything on my portfolio klangwelt.com and on Instagram.
"Rhythm of Life" – diptych skateboard design

Long story short: I'll still be posting when I feel I have something that brings me joy to share. No schedule, no heavy structuring, no pressure. Simply following my joy.
Also, before I go, I wanted to mention that if you love music and you're looking for some mixes to inspire you through the day – you can listen to my radio show "The Darkest Night" on Mixcloud and Spotify (soon). So click that link below. Much love ❤️